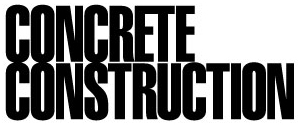 ---
CONCRETE CONSTRUCTION magazine provides a complete source of information of concrete building industry news, market conditions, science and technology in concrete, building performance, new products, and sustainable projects.
---
On the following pages you can subscribe, renew or make changes to your subscription to:
CONCRETE CONSTRUCTION magazine is the only magazine exclusively devoted to the world of concrete. CONCRETE CONSTRUCTION provides the information needed to be more successful in the concrete construction business. From the technical side of materials and structures to the more subtle side of managing people and money, CONCRETE CONSTRUCTION keeps its readers working more efficiently, safely and profitably.

---

CONCRETE CONSTRUCTION Industry Update free email newsletter delivers current industry news and coverage of the latest innovative products to help concrete construction professionals and product suppliers who serve them manage their operations efficiently and profitably.

---

The Concrete Surfaces Contractor Clinic free monthly email newsletter is devoted exclusively to concrete surfaces topics. This newsletter features reliable information on materials, equipment, and application methods - educating concrete contractors on the business of protecting, enhancing, and maintaining decorative and non-decorative concrete surfaces.
---
---
For assistance with other questions about your CONCRETE CONSTRUCTION subscription, including duplicate subscriptions and back issue purchases, we can be reached:
Toll-Free Telephone: 888.721.2402
Outside US: 847.291.5221
Fax: 847.291.4816
Email: cc@omeda.com
If you are experiencing technical difficulties and/or would like to comment on this site, please send us email: cc@omeda.com
| | | |
| --- | --- | --- |
| © 2014 Hanley Wood. All rights reserved. | | |