Unlock your audience's full potential with Omeda
Omeda is enterprise software that combines subscription management, customer data platform, and email and marketing automation so you can manage, activate and monetize your audience more efficiently. Improve lead generation, spark engagement, reduce churn, and increase revenue — all in one unified platform.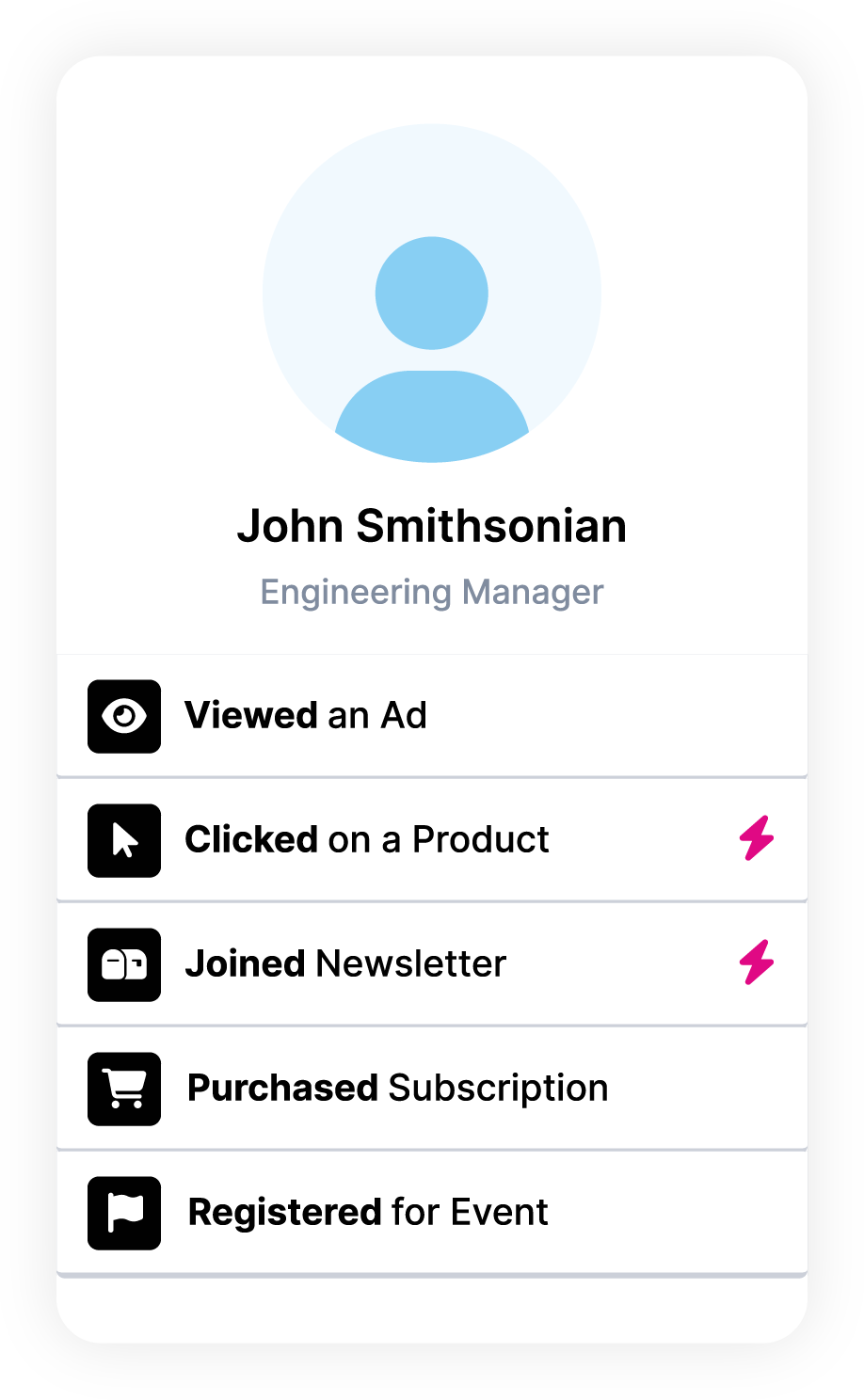 Omeda is trusted by the world's top brands
Simplify your marketing stack with Omeda
Combine best-in-class marketing technology in a standalone platform that seamlessly integrates all of your audience data.
One destination to build and segment all your audience data
Bring all your data together with Omeda's Customer Data Platform and Data Management Platform. Automatically capture behaviors through your website, events, email, mobile and even print.
Integrate new behaviors in real-time so you can automatically trigger campaigns and capture more details through integrated popups and inline targeting.
Design and automate marketing and email campaigns
Marketing automation built alongside data collection and consent management. Tailor comprehensive and nuanced email and automation campaigns with Omeda's Odyssey marketing automation platform.
Seamlessly move and connect between datasets to create dynamic marketing campaigns to grow your first-party data. Add your favorite integrations from our app marketplace.
Subscription management perfected
Use Omeda's Subscription and Fulfillment Management services to manage paid and free subscriptions, memberships, invoicing, autorenewals, digital and print fulfillment, and much more.
Build custom content meters and use Omeda's suite of audience marketing tools to grow your subscriptions and audience engagement. Generate audience segments and custom reports on demand to make data-driven optimizations based on those insights.
Modernized data management and governance that scales alongside your organization
Omeda eliminates data silos by bringing together disparate data into one easily accessible location. Through identity resolution, dedupeing and automated workflows, we establish the most up-to-date, accurate view of your customers.
Use this to activate your data more quickly and effectively — and turn your data points into real results
Who is Omeda for?
Associations
Omeda takes in member data from every source and consolidates it into one simple-to-use platform.
Audience development teams
Get a 360-degree view of each user and unlock the insights that spark success with Omeda's end-to-end audience management solution.
Content producers
Scale your content operations without complicating your workflow. Get detailed audience insights, generate income, and connect with your readers.
C-level
Consolidate customer data and drive sustainable revenue with Omeda's all-in-one platform. Sell your value to stakeholders and invest your efforts in the right place.
Data management teams
Unify customer data from all touch points, automate processes and store data securely. Shift focus from admin to revenue-generating work.
Marketing teams
Unify disparate data and activate your audience more efficiently with native CDP, email, marketing automation and subscription management functionalities.
Media organizations
Empower your organization by managing customer data in one place. Monetize your content and simplify collaboration as your organization grows.
Subscription circulation teams
Deliver issues on time and drive revenue from your content with our advanced data management and marketing tools.
Workflow Optimization
Ease collaboration, simplify attribution and invest in creative tasks with our streamlined tech stack. Evaluate success and growth opportunities with best-in-class reporting.
"Omeda has some of the best customer service and resources around. Throughout our entire transition over to the Omeda platform, our reps were with us every step of the way. They have been invaluable in helping us get us up and running and have gone above and beyond whenever an issue has arisen."

"Omeda has built a powerful marketing program that is driven by your own database, creating an almost seamless workflow and relationship management system. It really gives you the opportunity to create process efficiencies and optimize your investment by maximizing your usage of marketing tools."

"We love the fact that our multi-pub database is easy to query on many different levels. The Customer Search option is easy and displays all the necessary information broken down by publication and demos. The Odyssey is a wonderful function to promote our products."
Want to see Omeda in action?
Get a customized demonstration of how Omeda can help your business.
4 common barriers to collecting first-party data
Last updated: May 30, 2023
In the last few years, first-party data has transformed from a competitive edge to an absolute must-have: According to a new report from PILOT, the National Association of Broadcasters' innovation…
How to create a customer experience (CX) roadmap
Last updated: October 23, 2023
Prioritizing CX is the key to growing your business and revenue: According to Bain and Company, increasing customer retention by as little as 5% can increase profits by up to…
8 tips for implementing seamless marketing automation
Last updated: October 30, 2023
Marketing automation helps you power campaigns and run your marketing more efficiently. But to successfully implement marketing automation, your marketing strategy and data quality both need to be in top…
How Haymarket Media Increased Paid Subscriptions by 56%
Haymarket Media Group used Omeda's metering and subscription management tools to increase their paid subscriptions by 56% in one year.
How Becker's Healthcare Drove 1,000 Email Signups Per Month
Becker's Healthcare used Omeda's marketing automation solution to create a month-long series of weekly emails, which drove thousands of new contacts
How NAVC Manages 700K Database Members With Omeda
Using Omeda, NAVC harnessed their audience data to create content that helps veterinarians provide the best care possible.
Email Engagement Report – Q3 2023
Take a look at 1.8 billion emails sent through the Omeda platform in Q3 2023. Plus, get an update on Apple's Link Tracking Protection.
How to Plan and Streamline Your Tech Stack in 2024
Struggling with your tech stack? You're not alone. Keep these considerations in mind as you shop for new solutions.
Learn all about first-party data, why it's superior to other types of audience data, and get our top five best practices to help you collect and leverage first-party data.
Our annual summit returns to downtown Chicago! Omeda Idea Exchange is a unique industry event created specifically for our clients and partners across the media industry.